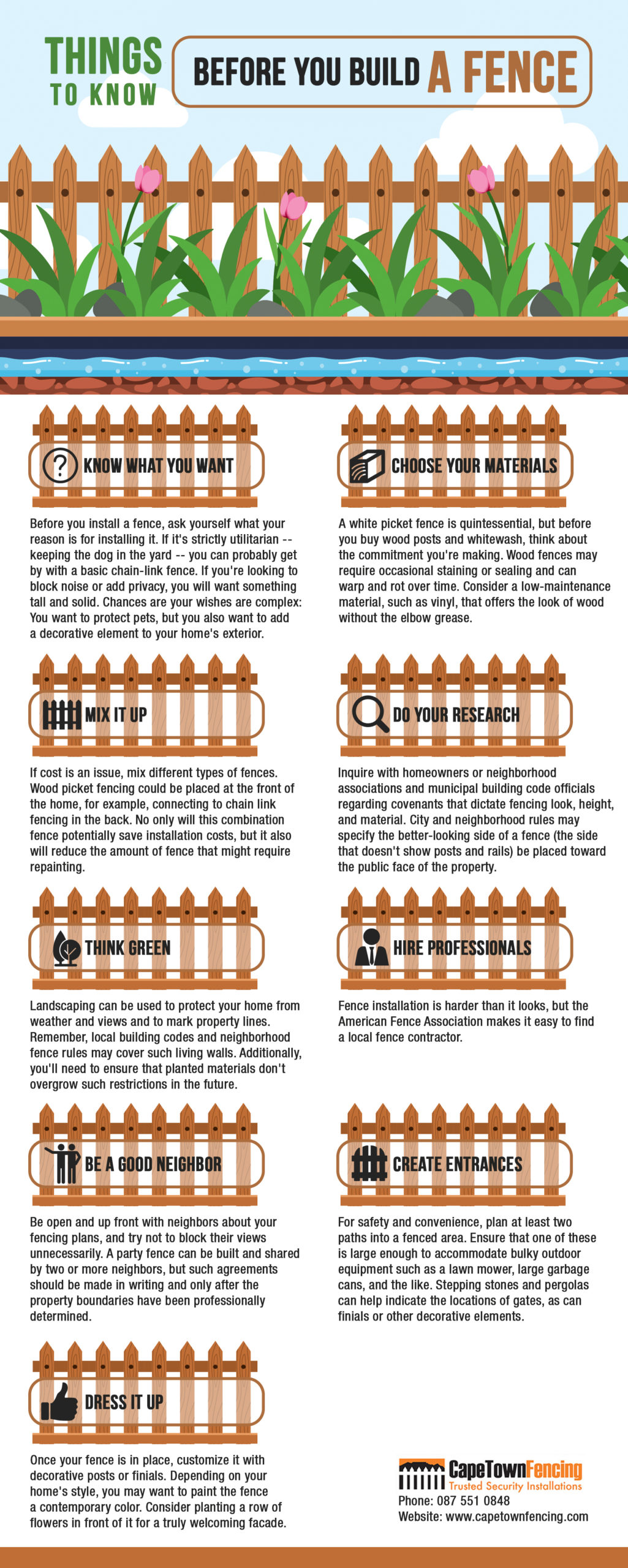 Before installing a fence in your premises, you have to take into account a number of factors. Setting up a good fence requires planning and commitment. First, figure out what you want, which is your reasons for installing the fence. This should guide you in making important decisions as you proceed. Different fences serve varying functions. For instance, a primary chain-link fence would be appropriate for the utilitarian purpose, while tall and solid fences are good for privacy.
Secondly, you should carry out an extensive research in the industry. From the requirements of installing a fence in your area, to the best installers in town. Get as much information as possible if you want to do things right. Inquire from the neighborhood associations and municipal building code officials about the fencing rules and regulations. Plus, if there are any licenses and permits required before you start working
You will then need a good fence contractor. Look for the best expert in the region if you want quality work. Here, you can ask for recommendations and referrals from friends and family members. A little research online and background checks will also help in separating experienced technicians from frauds.
Pick your materials carefully and focus more on quality and durability. Installing a wooden fence is not a bad idea. In fact, it may be cheaper and good-looking – initially. Unfortunately, it is susceptible to rotting and harsh weather conditions. Therefore, the fence will require regular repair and maintenance which cost money. A low-maintenance material like vinyl would be perfect if you must have the wooden fence look.
Still, on the materials, you should consider going green. After all, such fences require very little care and maintenance. An occasional trim works just fine for them. Furthermore, they are good at complementing your landscaping and garden décor.
Ideally, since there are many fencing materials available in the market, you are at liberty to mix them up. The wood picket fencing can be installed at the front of the house, while the chain link fence goes to the back. This helps to save on installation and maintenance costs.
Entry points which allow you to enter or leave the fenced area are very important. You should consider having at least two. One should be large enough to accommodate big outdoor equipment like the lawn mower. For easy identification, you can use stepping stones to create a path that leads to the entrances or construct a pergola on that spot.
Now, to make your fence different from others, you should customize it. Make use of decorative posts and finials to give it a stunning look. You could also paint the fence a desirable colour depending on your style. Planting flowers in front of the fence is also an excellent choice.
Lastly, try and involve your neighbour(s) in your fencing plans. It is the best way to avoid future misunderstandings. Should you decide to install a party fence and share between two or three neighbours, draft an agreement, and have it signed by the people involved.
Once you have figured all that out, pick up your phone and call our Cape Town Fencing team. Why? We are the best in the fencing business. We have installed hundreds of quality fences for residents and businesses all over Cape Town. Our professional experts are also available for repairs and maintenance services at cost-effective rates. Give us a call today on 087 551 0848. We will be happy to address all your concerns.